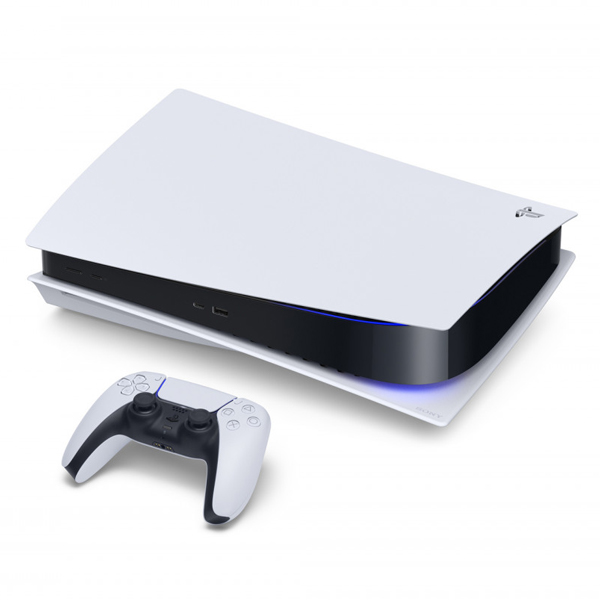 Najiščekivaniji inovativni proizvod PLAY STATION 5 službeno se lansira na tržište krajem 2020. Cijena je još uvijek nepoznata, a predviđanja su oko 500$. U ponudi će biti dvije verzije, prva s optičkom Blu-Ray jedinicom, a druga u potpunosti digitalizirana.
DIZAJN KONZOLE
Crno-bijela konzola s elegantnom plavom rasvjetom prati svoje prethodnike i uklapa se u svaki dom. Na prednjoj strani konzole se nalaze USB-A i USB-C utori, a sa strane su smješteni otvori za ventilaciju.
SPECIFIKACIJE
PlayStation 5 dolazi s novim SSD diskom koji će munjevito poboljšati učitavanje igara. S 3D zvukom te kontrolerom s povratnim signalima će te uživati u iskustvu igranja koje će dodatno poboljšati Epic Gameov Unreal Engine 5. Uživajte u nevjerojatnoj grafici ove nove igračke te u novoj razini stimulacijske svijetlosti. Od sada možete igrati na zaslonima razlučivosti od 4320p kojeg podržavaju 8K konzole.
DODACI ZA PS5
Uz konzolu u asortimanu će biti dostupna postaja za punjenje, daljinski, bežične slušalice Pulse 3D te HD kamera.
DualShock je službeno mrtav, predstavljen je DualSense koji manje odstupa od recimo PS3 boomerang kontrolera, ali i dalje ima upečatljiv dizajn i nekoliko novih značajki koje ga mogu izdvojiti.
Dizajn ima sličan izgled kao i DualShock 4, iako ima nešto debljine stila Switch Pro Controller. Sadrži i novi crno-bijeli dizajn, s crnom podlogom i bijelim kaputom koji se omotavaju oko vrha kontrolera, kao i njegovim rukohvatima.
Još ne znamo hoće li biti dostupan u dodatnim bojama. Što se tiče novih značajki, DualSense uključuje novi ugrađeni mikrofon kako bi igrači mogli razgovarati bez potrebe za slušalicama, iako je to još uvijek opcija, kao i "adaptive triggers" koji bi trebali ponuditi haptičku povratnu informaciju i osjećaj napetosti na određene radnje. To je također zamjena gumba dijeljenja novim gumbom za stvaranje, koji će uključivati ​​i značajke dijeljenja PS4, kao i nove značajke.