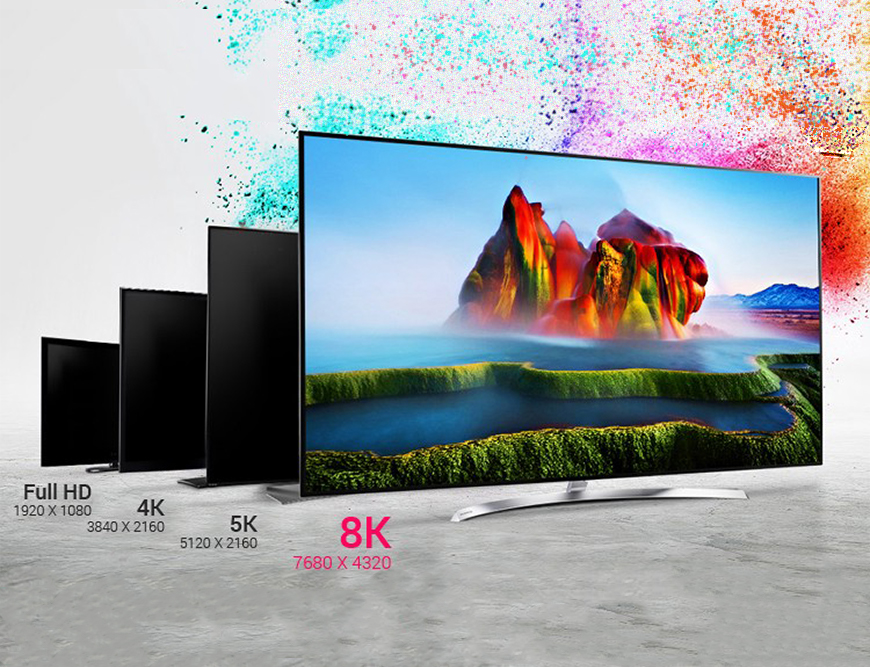 Iako se nismo još u potpunosti naviknuli na 4k monitore i televizore već su nam došli monitori sa 8K prikazom slike. Evo što smo sve dosad saznali o novim 8K monitorima.
Što je to 8K? Kako se 8K razlikuje od 4K i HD kvalitete?
Na prvo pogled i možda ono što vam prvo padne na pamet kada kažete 8K jest dvostruko viša rezolucija od one koju nudi 4K. No, ovo baš i nije tako. Zbog toga što se razolucija na televizorima (pogotovo ovim novijim) "računa" na drugačiji način, 8K nije isto što i "dvostruko više od 4K". 
Izraz "8K" se zapravo odnosi na mjerenje horizontalne rezolucije televizora (odnosno u prijevodu- koliko točno pixela ili točkica postoji ako gledamo prikaz slike s lijeve prema desnoj strani). Stvar je kod 8K monitora da oni na sebi (ili u sebi) daju i prikazuju dvostruko više horizontalnih točkica, ali da osim toga imaju i četiri puta više točkica sveukupnog broja točkica koje na sebi imaju 4K monitori.
U odnosu na Full HD rezolucije (ili rezolucije slike od 1080p) 8K ima i do 16 puta više točkica (ako uspoređujemo cijelo područje HD televizora  i 8K). Sve u svemu to je jako puno točkica. Ono što osim brojeva (1K, 2K, 4K, 8K) može zbunjivati korisnike ili potencijalne korisnike su i termini koji se ovdje koriste. Evo o čemu se ovdje radi.
Rezolucija slike od 720p ili HD znači rezolucija od 1280 x 720, odnosno 1280 širine sa 720 visine. Rezolucija od 1080p ili Full HD rezolucija je rezolucija od 1920 x 1080p (slovo "p" označava pixele ili točkice).
Rezolucija koja se označava sa UHD (ili "Ultra" HD) je rezolucija od 3840 x 2160p. 8K rezolucija je još viša od svih gore navedenih. Naime, televizor 8K rezolucije ima rezoluciju od 7680 x 4320p.
Jedna stvar koja se da vrlo lako i brzo primijetiti kod svih ovih rezolucija jest to da se nakon rezolucije od 720p svakim novim standardom i horizontalan i vertikalan broj točkica udvostručuje. Ono što dovodi do takvog ogromnog skoka u pogledu sveukupnog broja točkica na ekranu jest udvostručivanje točkica po visini i širini. 8K televizori su jednom riječju- prenatrpani točkicama.
Iako se nismo još u potpunosti naviknuli na 4k monitore i televizore već su nam došli monitori sa 8K prikazom slike. Evo što smo sve dosad saznali o novim 8K monitorima