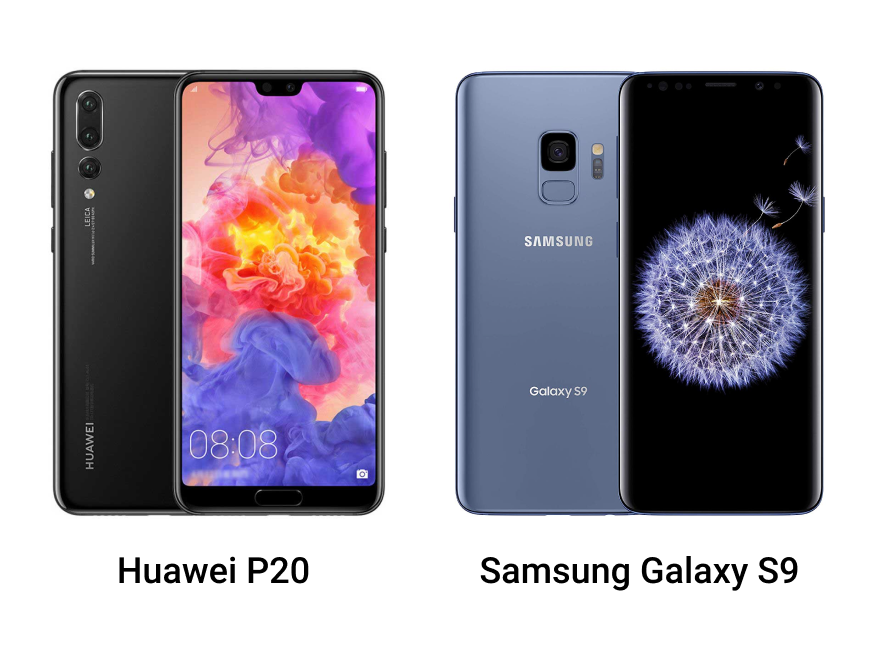 USPOREDILI SMO HUAWEI P20 I SAMSUNG GALAXY S9. KOJI JE BOLJI?
Samsung Galaxy S9 i Huawei P20 - poređenje.
Ako ste se ikada susreli sa mobitelom Huawei P20 vjerovatno biste njegovu estetiku mogli prepoznati sa drugog mobitela visoke klase, a to je: Appleov iPhone X.
Usprkos tome, Huawei P20 je mobitel sa zapanjujućom kamerom, zasljepljujućim dizajnom i mnogo snage.
Veći Huawei P20 Pro s trostrukim kamerama vjerovatno je bolji od Samsungovog vodećeg modela, ali šta je s manjim, standardnijim P20?

Galaxy S9 nije mnogo napredovao u odnosu na prethodni Samsung Galaxy S8, pogotovo kada je u pitanju izgled. Jedina vidljiva razlika je repozicionirani senzor otiska prsta na zadnjoj strani (što je zasigurno nadogradnja).
Uprkos tome, ovo je još uvijek jedan od mobitela sa najboljim izgledom na svijetu. Zakrivljeno staklo i aluminij sa vrlo malim okvirom na prednjoj strani odaje neki specifični premium osjećaj sveukupno.
Što se tiče Huawei P20? Pa, kao što smo rekli zaista liči na iPhone X, mada sa manjim urezom na prednjoj strani, ali i usnicom ispod ekrana za držanje senzora otiska prsta. Zasljepljujuća Twilight gradijentna boja dostupna je samo na Pro modelu, ali standardni P20 nudi elegantan model Pink Gold.
Oba ova mobitela su vrlo impresivnog i modernog izgleda, ali na kraju će se ovo upoređivanje vjerojatno složiti sa vašim osobnim željama.

Galaxy S9 je nastavio sa 5,8-inčnim, ekstra visokim 18,5:9 ekranom kao i prošle godine, iako je sada malo svjetliji. Pri Quad HD rezoluciji, to je još uvijek jedan od najboljih ekrana koje smo vidjeli u prošloj godini. Stvarno zasljepljujuće.
Što se tiče P20, on koristi 18,7:9, 5,8-inčni LCD ekran (Pro ima OLED), što znači da mu nedostaje nešto jačine i snažnog kontrasta kao što ima Galaxy S9. To može da se "popravi" putem softvera. Postoji još jedna ključna razlika: niža rezolucija kada se koristi 1080p. Ovdje je značajna prednost za Samsung.
Za one koji žele više informacija o specifikacijama:
Huawei P20:
Visina: 149.1 mm
Širina: 70.8 mm
Debljina: 7.65 mm
Težina: 165 g
Procesor:
Huawei HiSilicon KIRIN 970 8 core 2.36 GHz
Grafika (GPU): ARM Mali-G72 MP12 12 core 767 MHz
RAM: 4 GB
Interna memorija: 128 GB
Samsung Galaxy S9:
Visina: 147.7 mm
Širina: 68.7 mm
Debljina: 8.5 mm
Težina: 163 g
Procesor: Qualcomm Snapdragon 845 8 core 2.8 GHz
Grafika (GPU): Adreno 630 710 MHz
RAM: 4 GB
Interna memorija: 128 GB